Streaming video is here! Over 30,000 movies, TV shows, & documentaries for your computer, phone, tablet, or TV. Get started »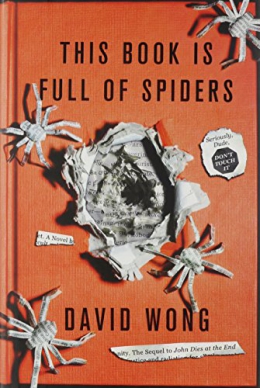 This Book Is Full Of Spiders : Seriously, Dude, Don't Touch It
Book
place hold

(

0

)
"Fan favorite David Wong takes readers to a whole new level with this blistering sequel to the cult sensation John Dies at the End, soon to be a movie starring Paul Giamatti Originally released as an online serial where it received more than 70,000 downloads, John Dies at the End has been described as a "Horrortacular", an epic of "spectacular" horror that combines the laugh out loud humor of the best R-rated comedy, with the darkest terror of H.P. Lovecraft. The book went on to sell an additional 60,000 copies in all formats. As the sequel opens, we find our heroes, David and John, again embroiled in a series of horrifying yet mind-bogglingly ridiculous events caused primarily by their own gross incompetence. The guys find that books and movies about zombies may have triggered a zombie apocalypse, despite a complete lack of zombies in the world. As they race against the clock to protect humanity from its own paranoia, they must ask themselves, who are the real monsters? Actually,...
more »
| Call Number | Location | Status | Due Date |
| --- | --- | --- | --- |
| F WONG | Adult Fiction | In | |
Details & Subjects
Edition Statement :
1st ed.
Series :
John dies at the end ; bk. 2
Publication, Distribution, etc. :
New York : Thomas Dunne Books, ©2012.
ISBN :
0312546343
Physical Description :
406 pages ; 25 cm
Notes :
Sequel to: John dies at the end.
Subjects :