The Library will be closed Sunday, April 21st for Easter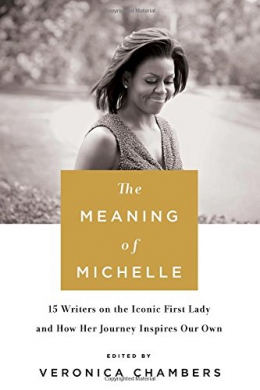 The Meaning Of Michelle : 16 Writers On The Iconic First Lady And How Her Journey Inspires Our Own
Book
place hold

(

0

)
"Michelle Obama is unlike any other First Lady in American History. From her first moments on the public stage, she has challenged traditional American notions about what it means to be beautiful, to be strong, to be fashion-conscious, to be healthy, to be First Mom, to be a caretaker and hostess, and to be partner to the most powerful man in the world. As Hillary Clinton has said, admiringly about Michelle Obama, our soon to be ex-First Lady exemplifies "the ideal concept of American womanhood." What is remarkable is that, at 52, she is just getting started. While many books have looked at Michelle Obama from a fashion perspective, no book has fully explored what Michelle Obama means to our culture. The Meaning of Michelle will do just that, while offering a parting gift to a landmark moment in American history. This deliciously readable collection presents a chorus of diverse voices with smart, engaging perspectives on Michelle Obama. There will be a preface by Ava Duvernay and an...
more »
| Call Number | Location | Status | Due Date |
| --- | --- | --- | --- |
| 973.932 MEA | Adult Nonfiction | In | |
Details & Subjects
Additional Authors :
Edition Statement :
First edition.
Content :
Preface / Ava Duvernay -- Introduction: Homegirls / Veronica Chambers -- Michelle in high cotton / Benilde Little -- Crushing on Michelle : or, The unapologetic power of Blackness / Damon Young -- The composer and the brain : a conversation about music, marriage, power, creativity, partnership ... and the Obamas / Alicia Hall Moran and Jason Moran -- Lady O and King Bey / Brittney Cooper -- We go way back / Ylonda Gault Caviness -- Two Black first ladies walk into a room / Chirlane McCray -- Becoming the wife / Cathi Hanauer -- On being flawlessly imperfect / Tiffany Dufu -- She slays : Michelle Obama & the power of dressing like you mean it / Tanisha C. Ford -- Cooking with a narrative / Marcus Samuelsson -- Michelle Obama : representational justice / Sarah Lewis -- The freedom to be yourself / Karen Hill Anton -- She loves herself when she is laughing : Michelle Obama, taking down a stereotype and co-creating a presidency / Rebecca Carroll -- The best of wives and best of women / Phillipa Soo -- Making space / Roxane Gay.
ISBN :
1250114969
Physical Description :
xiii, 220 pages ; 22 cm
Notes :
Includes bibliographical references (pages 217-220).
Subjects :
Genres :