Overdue fees for DVDs and Blu-Rays will increase from 15 cents/day to 30 cents/day effective July 1, 2017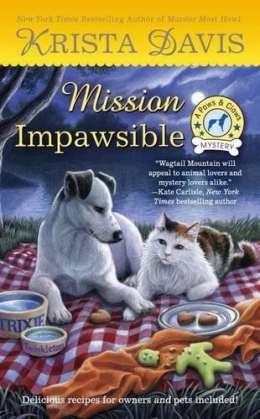 In the pet-friendly town of Wagtail, Virginia, Holly Miller and her grandmother, Oma, are working their tails off to prepare the Sugar Maple Inn for an upcoming matchmaking event for pet owners. While Holly has no interest in pairing up, Oma plans on playing Cupid and finding someone to warm her reluctant granddaughter's heart. Unfortunately, one man Holly does meet is cold--dead cold--and he has a personal letter from Oma in his pocket. As suspicion is cast over the inn's guests, Holly--with the help of her furry friends, Trixie the Jack Russell and Twinkletoes the cat--must fetch the real killer, or she may soon have a date in court.
Literature & Fiction
Copies & Locations
| Call Number | Location | Status | Due Date |
| --- | --- | --- | --- |
| PB DAV | New | Out | 6/26/17 |
Details & Subjects
Edition Statement :
First edition.
ISBN :
1101988568
Physical Description :
xii, 284 pages ; 18 cm.
Notes :
"Berkley Prime Crime book"--back cover.
Subjects :