The library building is currently closed due to Covid-19. Visit our homepage for more information.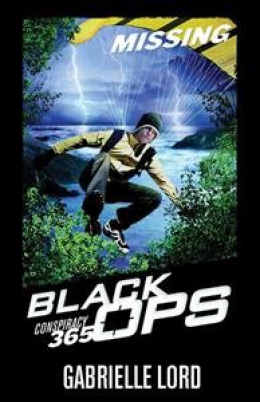 "Ryan has disappeared, and Cal's suspicions are raised when he receives a cryptic message: 90 days. Cal agrees to work as an undercover agent for SI-6 to discover the whereabouts of his twin. But at an island getaway for troubled teens, Cal quickly discovers things are not as they seem. With secret hide-outs, underground training camps, dangerous clues and treacherous terrain, Cal has to face his most heart-stopping challenges yet. Will he find Ryan? Or will his first secret mission be deadly? The clock is ticking. Any second could be his last." -- Provided by publisher
| Call Number | Location | Status | Due Date |
| --- | --- | --- | --- |
| J F LORD | Juvenile Fiction | In | |
Details & Subjects
Edition Statement :
First American edition.
Series :
Conspiracy 365 ; bk. 15
ISBN :
1610671686
Physical Description :
184 pages : illustrations ; 21 cm.
Notes :
Pages numbered in reverse order.
Originally published: Scholastic Australia, 2013.
Subjects :
Genres :