Overdue fees for DVDs and Blu-Rays will increase from 15 cents/day to 30 cents/day effective July 1, 2017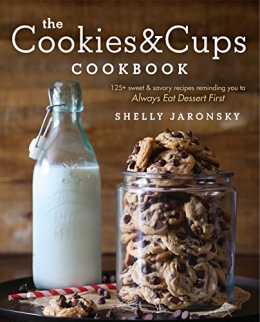 The Cookies & Cups Cookbook : 125+ Sweet & Savory Recipes Reminding You To Always Eat Dessert First
Book
place hold

(

0

)
"Wildly popular Cookies & Cups blogger Shelly Jaronsky eagerly anticipated cookbook features all-new, mouth-watering, delectable sweet treats 100% guaranteed to make you want to eat dessert first. " -- Amazon.com.
Nonfiction
Copies & Locations
| Call Number | Location | Status | Due Date |
| --- | --- | --- | --- |
| 641.86 JAR | Adult Nonfiction | Out | 7/13/17 |
Details & Subjects
Content :
Introduction: I'm gonna talk a little about me right now -- My rules (or lack thereof) in the kitchen: let's talk about my rules for being rule-less -- Dessert first. So you think you can bake? These are the recipes you need to nail ; Eat cake for breakfast! And other remedies for the morning sweet tooth ; Cookies: a balanced diet is a cookie in each hand ; Brownies and bars: my happiness resides in a 9 x 13 pan ; Cake: it's always the answer, no matter what the question ; Frosting: I'll take a corner piece, please ; Pie: life's better in a crust ; Party snacks: It's not always about the cake. I can't believe I just said that -- Did you save room for dinner? Pizza and pasta: let's carb up! ; Salads and sammies: lighter food that will put some meat on your bones ; Family favorites: meals my whole family agrees on. In other words, miracle food.
ISBN :
1501102516
Physical Description :
xxi, 293 pages ; 24 cm
Subjects :