Streaming video is here! Over 30,000 movies, TV shows, & documentaries for your computer, phone, tablet, or TV. Get started »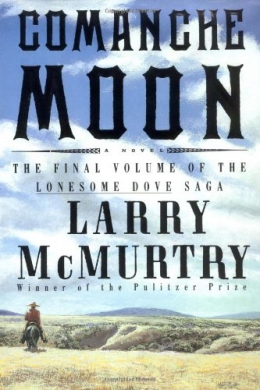 Comanche Moon by Larry McMurtry, a brilliant and haunting novel richly capable of standing on its own, completes the author's epic four-volume cycle of novels of the American West that began in 1985 with the Pulitzer Prize -- winning masterpiece, Lonesome Dove. We join Texas Rangers August McCrae and Woodrow F. Call in their middle years, just beginning to deal with the perplexing tensions of adult life -- Gus and his great love, Clara Forsythe; Call and Maggie Tilton, the young whore who loves him -- when they enlist with a Ranger troop in pursuit of Buffalo Hump, the great Comanche war chief; Kicking Wolf, the celebrated Comanche horse thief; and a deadly Mexican bandit king with a penchant for torture. Assisting the Rangers in their wild chase is the renowned Kickapoo tracker, Famous Shoes. Comanche Moon joins the twenty-year time line between Dead Man's Walk and Lonesome Dove, as we follow beloved heroes Gus and Call and their comrades-in-arms -- Deets, Jake Spoon, and Pea Eye...
more »
| Call Number | Location | Status | Due Date |
| --- | --- | --- | --- |
| F MCMURTRY | Adult Fiction | In | |
Details & Subjects
Publication, Distribution, etc. :
New York : Simon & Schuster, 1997.
ISBN :
0684807548
Physical Description :
752 p. ; 25 cm.
Subjects :