The library building is currently closed due to Covid-19. Visit our homepage for more information.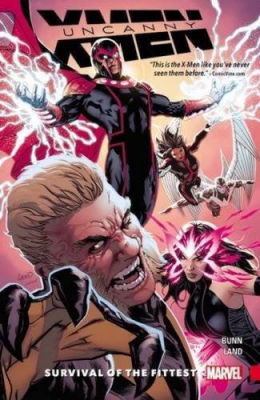 Uncanny X-men : Superior. Book 1, Survival Of The Fittest
Book
place hold

(

0

)
"Desperate times call for a darker team of X-Men! With mutantkind in extinction's crosshairs once more, Magneto leads a group of the deadliest that homo superior has to offer to fight for the fate of their species! Refusing to accept even one more mutant death, the most ruthless possessors of the X-gene on Earth --deadly warriors such as Sabretooth, Fantomex, Mystique and Psylocke -- have banded together to proactively mow down their enemies. But with a team populated by killers, can they stay away from each other's throats long enough to take down their targets? And can the Master of Magnetism curb his own homicidal instincts long enough to find out who's trying to speed up mutantkind's descent into the grave? It's X-Men with the emphasis on Uncanny!" -- Page 4 of cover
| Call Number | Location | Status | Due Date |
| --- | --- | --- | --- |
| GRAPHIC NOVEL X-ME | YA Graphic Novels | In | |
Details & Subjects
Additional Authors :
Target Audience/Rating :
ISBN :
0785196072
Physical Description :
1 volume (unpaged) : chiefly color illustrations ; 26 cm.
Notes :
Contains material originally published in magazine form as Uncanny X-Men #1-5.
Subjects :
Genres :