The Library will be closed Monday, May 28th in observance of Memorial Day.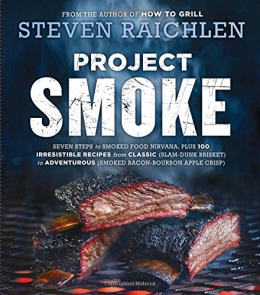 Project Smoke : Seven Steps To Smoked Food Nirvana, Plus 100 Irresistible Recipes From Classic To Adventurous
Book
place hold

(

0

)
"Project Smoke is the How to Grill of smoking, both a complete step-by-step guide to mastering the gear and techniques and a collection of 100 explosively flavorful recipes for smoking every kind of food, from starters to desserts. Project Smoke describes Raichlen's seven steps to smoked food nirvana, including: 1. Choose Your Smoker; 4. Source Your Fuel; 7. Know When Your Food Is Done. There's an in-depth rundown on various smokers; the essential brines,rubs, marinades, and barbecue sauces; and a complete exposition of woods: and ways to smoke-cold smoking, hot smoking, smoke-roasting and smoke-braising. Then the recipes, all big-flavored dishes. Bacon-Crap Poppers, Cherry-Glazed Baby Back Ribs. Slam-Dunk Brisket, Porkstrami, and Jamaican Jerk Chicken. Even desserts and cocktails-Smoked Chocolate Bread Pudding or a Mezcalini, anyone? Illustrated throughout with gorgeous full-color photographs, it's a book that inspires hunger at every glance, and satisfies with every recipe tried" -- Provided by publisher.
| Call Number | Location | Status | Due Date |
| --- | --- | --- | --- |
| 641.616 RAI | Adult Nonfiction | Out | 6/14/18 |
Details & Subjects
Content :
Starters -- Beef -- Pork -- Lamb -- Burgers, sausages, and more -- Poultry -- Seafood -- Vegetables, side dishes, and meatless smoking -- Desserts -- Cocktails -- Conversion tables -- The various types of smokers -- Additional smoking essentials.
ISBN :
0761181865
Physical Description :
293 pages ; 24 cm
Subjects :