The Library will be closed Sunday, April 21st for Easter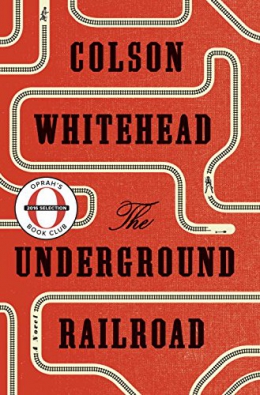 Cora is a slave on a cotton plantation in Georgia. When Caesar, a recent arrival from Virginia, tells her about the Underground Railroad, they decide to take a terrifying risk and escape. Though they manage to find a station and head north, they are being hunted. Their first stop is South Carolina, in a city that initially seems like a haven. But the city's placid surface masks an insidious scheme designed for its black denizens. And even worse: Ridgeway, the relentless slave catcher, is close on their heels. Forced to flee again, Cora embarks on a harrowing flight, state by state, seeking true freedom. Like the protagonist of Gulliver's Travels, Cora encounters different worlds at each stage of her journey -- hers is an odyssey through time as well as space. As Whitehead re-creates the unique terrors for black people in the pre-Civil War era, his narrative weaves the saga of America from the brutal importation of Africans to the unfulfilled promises of the present day.
| Call Number | Location | Status | Due Date |
| --- | --- | --- | --- |
| F WHITEHEAD | Adult Fiction | In | |
Details & Subjects
Edition Statement :
First edition.
Content :
Ajarry -- Georgia -- Ridgeway -- South Carolina -- Stevens -- North Carolina -- Ethel -- Tennessee -- Caesar -- Indiana -- Mabel -- The North.
ISBN :
0385542364
Physical Description :
306 pages ; 25 cm
Notes :
Oprah 2.0 book club August 2016 selection
Subjects :
Genres :