The Library will be closed on Monday, 1/21 in observance of Martin Luther King Jr. Day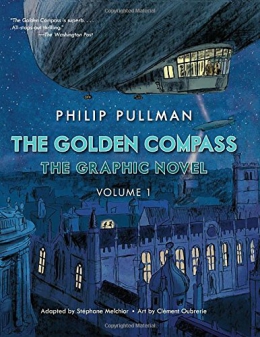 Lyra Belacqua is content to run wild among the scholars of Jordan College, with her daemon familiar always by her side. But the arrival of her fearsome uncle, Lord Asriel, draws her to the heart of a terrible struggle -- a struggle born of Gobblers and stolen children, and a mysterious substance known as Dust. As she hurtles toward danger in the cold far North, Lyra never suspects the shocking truth: she alone is destined to win -- or to lose -- this more-than-mortal battle.
| Call Number | Location | Status | Due Date |
| --- | --- | --- | --- |
| GRAPHIC NOVEL PUL | YA Graphic Novels | In | |
Details & Subjects
Additional Authors :
Target Audience/Rating :
Edition Statement :
First U.S. edition.
ISBN :
0553523716
Physical Description :
1 volume (unnumbered pages) : color illustrations ; 23 cm
Notes :
"Originally published by Gallimard Jeunesse, Paris, France, in 2014"--Copyright page.
Subjects :