The library building is currently closed due to Covid-19. Visit our homepage for more information.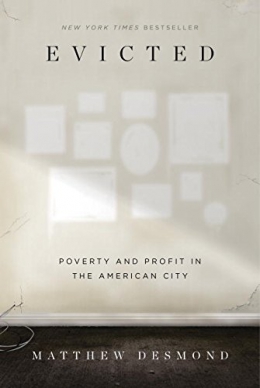 Summary: Sociologist Matthew Desmond takes us into the poorest neighborhoods of Milwaukee to tell the story of eight families on the edge. Arleen is a single mother trying to raise her two sons on the 20 dollars a month she has left after paying for their rundown apartment. Scott is a gentle nurse consumed by a heroin addiction. Lamar, a man with no legs and a neighborhood full of boys to look after, tries to work his way out of debt. Vanetta participates in a botched stickup after her hours are cut. All are spending almost everything they have on rent, and all have fallen behind. The fates of these families are in the hands of two landlords: Sherrena Tarver, a former schoolteacher turned inner-city entrepreneur, and Tobin Charney, who runs one of the worst trailer parks in Milwaukee. They loathe some of their tenants and are fond of others, but as Sherrena puts it, "Love don't pay the bills." She moves to evict Arleen and her boys a few days before Christmas. Even in the most desolate areas...
more »
| Call Number | Location | Status | Due Date |
| --- | --- | --- | --- |
| 339.46 DES | Adult Nonfiction | In | |
Details & Subjects
Edition Statement :
First edition.
Content :
Cold city -- The business of owning the city -- Making rent -- Hot water -- A beautiful collection -- Thirteenth Street -- Rat hole -- The sick -- Christmas in Room 400 -- Order some carryout -- Hypes for hire -- The 'hood is good -- Disposable ties -- E-24 -- High tolerance -- A nuisance -- Ashes on snow -- This is America -- Lobster on food stamps -- Little -- Nobody wants the North Side -- Bigheaded boy -- If they give Momma the punishment -- The Serenity Club -- Can't win for losing -- Home and hope -- About this project.
ISBN :
0553447432
Physical Description :
x, 418 pages ; 25 cm
Notes :
Includes bibliographical references (pages 343-405) and index.
Subjects :
Genres :