The Library will be closed Monday, May 28th in observance of Memorial Day.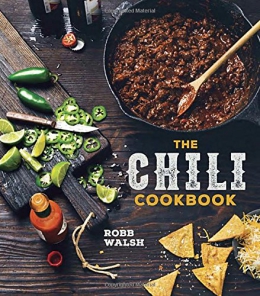 The Chili Cookbook : A History Of The One-pot Classic, With Cook-off-worthy Recipes From Three-bean To Four-alarm, And Con Carne To Vegetarian
Book
place hold

(

0

)
A cookbook devoted to the family friendly, tailgate party classic--featuring more than 60 tried-and-true recipes--from veteran cookbook author and Americana expert Robb Walsh.

Americans love chili. Whether served as a hearty family dinner, at a potluck with friends, or as the main dish at a football-watching party, chili is a crowd-pleaser. It's slathered over tamales in San Antonio, hot dogs in Detroit, and hamburgers in Los Angeles. It's ladled over spaghetti in Cincinnati, hash browns in St. Louis, and Fritos corn chips in Santa Fe.

In The Chili Cookbook, award-winning author Robb Walsh digs deep into the fascinating history of this quintessential American dish. Who knew the cooking technique traces its history to the ancient Aztecs, or that Hungarian goulash inspired the invention of chili powder?

Fans in every region of the country boast the "one true recipe," and Robb Walsh recreates them all-60 mouth-watering chilis from easy slow-cooker suppers to stunning braised meat creations. Thereare beef, venison, pork, lamb, turkey, chicken, and shrimp chilis to choose from-there is even an entire chapter on vegetarian chili.The Chili Cookbook is sure to satisfy all your chili cravings. - Amazon
| Call Number | Location | Status | Due Date |
| --- | --- | --- | --- |
| 641.813 WAL | Adult Nonfiction | In | |
Details & Subjects
Edition Statement :
First edition.
Content :
Chili kitchen notes -- Chile identification guide -- Chili's family tree -- Lobster chili in old Mexico -- Christmas in New Mexico -- Goulash, kima, and tajine -- Tex-Mex traditions -- Longhorns, chile Queens, and the cradle of Texas chili -- Comida Tex-Mex -- Chili road trip -- Route 66 and other kicks -- Coneys and three-ways: Greek-American chili traditions -- Half-smokes and all that jazz: African-American chili traditions -- Modern and vegetarian chilis -- Modern chilis -- Vegetarian chilis -- How to throw a chili party.
ISBN :
1607747952
Physical Description :
192 pages ; 21 cm
Notes :
Includes index.
Subjects :