Streaming video is here! Over 30,000 movies, TV shows, & documentaries for your computer, phone, tablet, or TV. Get started »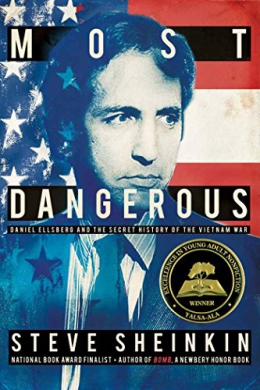 Most Dangerous : Daniel Ellsberg And The Secret History Of The Vietnam War
Book
place hold

(

0

)
From Steve Sheinkin, the award-winning author of "The Port Chicago 50" and "Bomb "comes a tense, exciting exploration of what the Times deemed "the greatest story of the century": how Daniel Ellsberg transformed from obscure government analyst into "the most dangerous man in America," and risked everything to expose the government's deceit. On June 13, 1971, the front page of the New York Times announced the existence of a 7,000-page collection of documents containing a secret history of the Vietnam War. Known as The Pentagon Papers, these documents had been comissioned by Secretary of Defense Robert McNamara. Chronicling every action the government had taken in the Vietnam War, they revealed a pattern of deception spanning over twenty years and four presidencies, and forever changed the relationship between American citizens and the politicans claiming to represent their interests. -- Publisher description.
| Call Number | Location | Status | Due Date |
| --- | --- | --- | --- |
| 959.7043 SHE YA | YA Nonfiction | In | |
Details & Subjects
Target Audience/Rating :
Edition Statement :
First edition.
Content :
Prologue: Feasibility Study -- Part I. Insider -- Part II. Secrets and Lies -- Part III. Outsider -- Epilogue: History Repeats.
ISBN :
1596439521
Physical Description :
370 pages : illustrations, maps ; 24 cm
Notes :
Includes bibliographical references and index.
Subjects :