Overdue fees for DVDs and Blu-Rays will increase from 15 cents/day to 30 cents/day effective July 1, 2017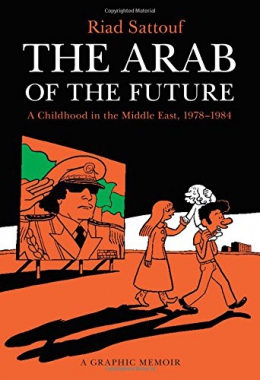 The Arab Of The Future : A Graphic Memoir : Growing Up In The Middle East
Book
place hold

(

0

)
"In striking, virtuoso graphic style that captures both the immediacy of childhood and the fervor of political idealism, Riad Sattouf recounts his nomadic childhood growing up in rural France, Gaddafi's Libya, and Assad's Syria--but always under the roof of his father, a Syrian Pan-Arabist who drags his family along in his pursuit of grandiose dreams for the Arab nation. Riad, delicate and wide-eyed, follows in the trail of his mismatched parents; his mother, a bookish French student, is as modest as his father is flamboyant. Venturing first to the Great Socialist People's Libyan Arab State and then joining the family tribe in Homs, Syria, they hold fast to the vision of the paradise that always lies just around the corner. And hold they do, though food is scarce, children kill dogs for sport, and with locks banned, the Sattoufs come home one day to discover another family occupying their apartment. The ultimate outsider, Riad, with his flowing blond hair, is called the ultimate...
more »
Nonfiction
Comics & Graphic Novels
Staff Picks
Copies & Locations
| Call Number | Location | Status | Due Date |
| --- | --- | --- | --- |
| B SATTOUF | Adult Biographies | In | |
Details & Subjects
Additional Authors :
Taylor, Sam, 1970- translator.
Edition Statement :
First U.S. edition.
ISBN :
1627793445
Physical Description :
153 pages : illustrations ; 24 cm
Notes :
Translation of: Arabe du futur.
Subjects :