The Library will be closed Monday, May 28th in observance of Memorial Day.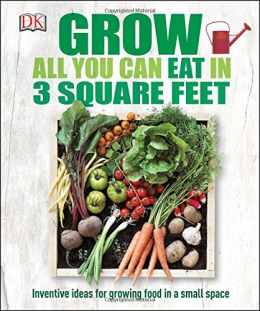 Want to grow your own vegetables and food, but don't have enough space for a garden? Don't let lack of space get in the way of growing healthy, organic foods at home. Apartment dwellers, schoolteachers, and anyone else who wants to grow a lot of food in a little space will find a great small garden resource in Grow All You Can Eat in 3 Square Feet.
Small-space gardeners, find your start in Grow All You Can Eat in 3 Square Feet, packed with information on window boxes, potted plants, patio gardening, raised beds, small square-foot gardening, container gardening, and everything else related to growing your own small garden. Whether you want to grow a full garden, grow tomatoes, grow an herb garden, or just pick up great tips for small gardens, Grow All You Can Eat in 3 Square Feet is the resource you need.
- Amazon
| Call Number | Location | Status | Due Date |
| --- | --- | --- | --- |
| 635 GRO | Adult Nonfiction | Out | 6/13/18 |
Details & Subjects
Additional Authors :
Edition Statement :
First American edition.
ISBN :
1465429808
Physical Description :
255 pages : color illustrations ; 24 cm
Notes :
Includes index.
Subjects :