The library will be closed Monday, May 29 in observance of Memorial Day.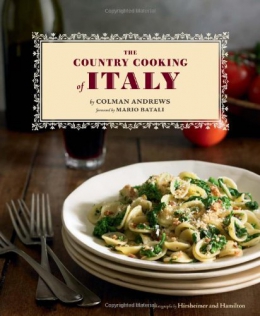 "Following the success of their 2010 James Beard Foundation Best Cookbook of the Year, The Country Cooking of Ireland, Colman Andrews and Christopher Hirsheimer achieve the formidable feat of illuminating the world s most beloved cuisine in an entirely new light. Drawing on more than 40 years of experience traveling and eating in Italy, Andrews explores every region, from Piedmont to Puglia, and provides the fascinating origins of dishes both familiar and unexpected. This gloriously photographed keepsake depicts an ingredient-focused culture deeply rooted in rural traditions, in which even the most sophisticated dishes derive from more basic fare. With 230 sumptuous recipes highlighting the abundant flavors of the land, all set against the backdrop of Andrews vivid storytelling and Hirsheimer s evocative images, this luxe package is sure to delight home chefs and lovers of Italian food alike"-- Provided by publisher.
Nonfiction
Copies & Locations
| Call Number | Location | Status | Due Date |
| --- | --- | --- | --- |
| 641.5945 AND | Adult Nonfiction | In | |
Details & Subjects
Content :
Antipasto: awakening the palate -- Soup: the essence of land and sea -- Pasta secca: the heart of a cuisine -- Pasta fresca: homemade goodness -- Rice and polenta: grains of satisfaction -- Savory pies, focaccia, and their kin: from the baker's oven -- Fish: gift of the waters -- Crustaceans, cephalopods, and bivalves: treasures of the sea and shore -- Poultry and rabbit: food from the farmyard -- Pork, lamb, and goat: the meat of the matter -- Veal and beef: savory substance -- Game: the flavors of the hunt -- Offal: nothing good wasted -- Salads and vegetables: the bounty of the land -- Desserts and confections: sweet somethings -- The basics.
Publication, Distribution, etc. :
San Francisco : Chronicle Books, c2011.
ISBN :
0811866718
Physical Description :
392 p. : ill. (some col.), col. map ; 29 cm.
Notes :
Includes bibliographical references (p. [380-382]) and index.
Subjects :