Streaming video is here! Over 30,000 movies, TV shows, & documentaries for your computer, phone, tablet, or TV. Get started »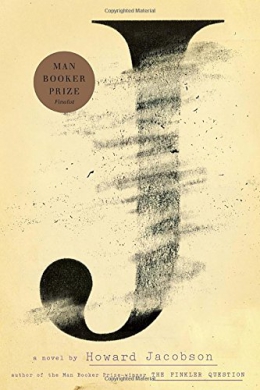 "In a world where the past is a dangerous country, not to be talked about or visited, J is a love story of incomparable strangeness, both tender and terrifying. After the devastation of WHAT HAPPENED, IF IT HAPPENED, all that should remain is peace and prosperity. Everyone knows his or her place; all actions are out in the open. But Esme Nussbaum has seen the distorted realities, the fissures that have only widened in the twenty-plus years since she was forced to resign from her position at the monitor of the Public Mood. Now, Esme finds something strange and special developing in a romance between Ailinn Solomons and Kevern Cohen. As this unusual pair's actions draw them into ever-increasing danger, Esme realizes she must do everything in her power to keep them together--whatever the cost."-- Provided by publisher.
| Call Number | Location | Status | Due Date |
| --- | --- | --- | --- |
| F JACOBSON | Adult Fiction | In | |
Details & Subjects
Edition Statement :
First edition.
ISBN :
0553419552
Physical Description :
342 pages ; 25 cm
Subjects :
Genres :