Overdue fees for DVDs and Blu-Rays will increase from 15 cents/day to 30 cents/day effective July 1, 2017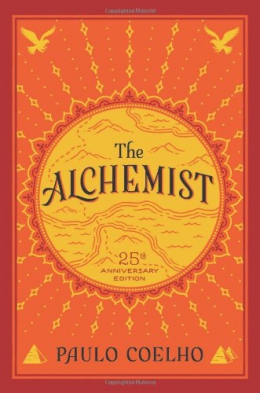 "A special 25th anniversary edition of Paulo Coehlo's extraordinary international bestselling phenomenon--the inspiring spiritual tale of self-discovery that has touched millions of lives around the world.Combing magic, mysticism, wisdom and wonder, The Alchemist has become a modern classic, selling millions of copies around the world and transforming the lives of countless readers across generations. Paulo Coelho's masterpiece tells the mystical story of Santiago, an Andalusian shepherd boy who yearns to travel in search of a worldly treasure. His quest will lead him to riches far different--and far more satisfying--than he ever imagined. Santiago's journey teaches us about the essential wisdom of listening to our hearts, of recognizing opportunity and learning to read the omens strewn along life's path, and, most importantly, to follow our dreams. "-- Provided by publisher.
Literature & Fiction
Copies & Locations
| Call Number | Location | Status | Due Date |
| --- | --- | --- | --- |
| F COELHO | Adult Fiction | Out | 7/12/17 |
Details & Subjects
Additional Authors :
Clarke, Alan (Alan R.), translator.
Edition Statement :
First Harpercollins hardcover edition
ISBN :
0062315005
Physical Description :
x, 182 pages ; 21 cm.
Subjects :