The Library will be closed Monday, May 28th in observance of Memorial Day.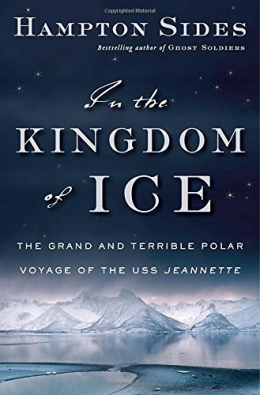 In The Kingdom Of Ice : The Grand And Terrible Polar Voyage Of The U.S.S. Jeannette
Book
place hold

(

0

)
In the late nineteenth century, people were obsessed by one of the last unmapped areas of the globe: the North Pole. No one knew what existed beyond the fortress of ice rimming the northern oceans, although theories abounded. The foremost cartographer in the world, a German named August Petermann, believed that warm currents sustained a verdant island at the top of the world. National glory would fall to whoever could plant his flag upon its shores. James Gordon Bennett, the eccentric and stupendously wealthy owner of The New York Herald, had recently captured the world's attention by dispatching Stanley to Africa to find Dr. Livingstone. Now he was keen to re-create that sensation on an even more epic scale. So he funded an official U.S. naval expedition to reach the Pole, choosing as its captain a young officer named George Washington De Long, who had gained fame for a rescue operation off the coast of Greenland. De Long led a team of 32 men deep into uncharted Arctic waters,...
more »
| Call Number | Location | Status | Due Date |
| --- | --- | --- | --- |
| 910.45 SID | Adult Nonfiction | In | |
Details & Subjects
Edition Statement :
First edition.
Content :
The company of the USS Jeannette -- Baptism by ice -- A great blank space. A shocking Sabbath carnival of death ; Ne plus ultra ; The Lord of Creation ; For you I will dare anything ; Gateways to the Pole -- The national genius. The engine of the world ; Satisfaction ; The Sage of Gotha ; Pandora ; Three years, or eternity ; A benediction ; Second chances ; The U.S. Arctic Expedition ; All that man can do ; The new invader -- A glorious country to learn patience in. A cul-de-sac ; Nipped ; Among the swells ; If by any mischance ; A delusion and a snare ; Forever, almost ; Invisible hands -- We are not yet daunted. On the lone icebound sea ; The discovered country ; Tidings ; Death strokes -- The end of creation. All Mucky ; Nil desperandum ; The phantom continent ; A second promised land ; Eight precious days ; The known world ; Seas high and spiteful -- The whisper of the stars. Lucky fourteen ; Remember me in New York ; If it takes my last dollar ; Frantic pantomimes ; Incubus of horrors ; White gloom ; The Russian nation at your back ; They that watch for the morning ; A wild dirge through time -- As long as I have ice to stand on.
ISBN :
0385535376
Physical Description :
xiii, 454 pages, 8 unnumbered pages of plates : illustrations ; 25 cm
Notes :
Includes bibliographical references.
Subjects :