The library building is currently closed due to Covid-19. Visit our homepage for more information.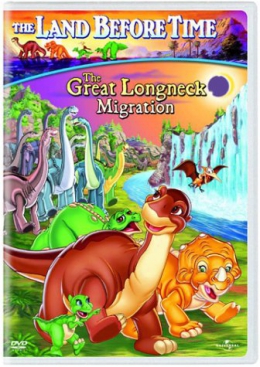 The Land Before Time [DVD]. 10, The Great Longneck Migration [presented By] Universal Home Entertainment Productions ; Produced And Directed By Charles Grosvenor ; Screenplay By John Loy.
DVD
place hold

(

0

)
Littlefoot has a vivid dream in which he imagines travelling to a place where there are many of his kind, and when he tells the story to his grandparents, they take it as a sign to set out and find this mysterious place. After days of travel they do indeed discover a new world where longneck dinosaurs are plentiful, including one they never expected to see -- Bron, Littlefoot's father, who went missing before he was born. While Littlefoot is thrilled to be reunited with his father, now he must choose if he should stay with Bron, or the grandparents who have cared for him for years.
| Call Number | Location | Status | Due Date |
| --- | --- | --- | --- |
| DVD CHILDREN LAND | DVDs Children | In | |
Details & Subjects
Additional Authors :
Target Audience/Rating :
Publication, Distribution, etc. :
Universal City, CA : Universal, c2003.
ISBN :
0783283113
Physical Description :
1 videodisc (84 min.) : sd., col. ; 4 3/4 in.
Notes :
Based on the characters created by Judy Freudberg and Tony Geiss.
Special features: "Littlefoot's playhouse": read-along with Littlefoot, the Great Circle, Littlefoot's Spanish Language Lab; sing-along songs; in the studio with Olivia Newton-John: "Best of Friends".
Subjects :
Genres :