Streaming video is here! Over 30,000 movies, TV shows, & documentaries for your computer, phone, tablet, or TV. Get started »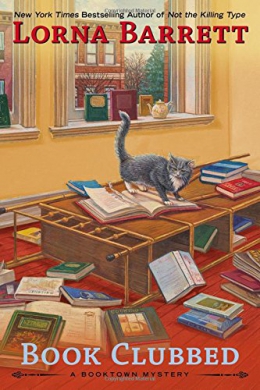 "Cranky Chamber of Commerce receptionist Betsy Dittmeyer is done reading people the riot act. After she's crushed by a fallen bookcase, the next item to be read is her last will and testament--which is packed with surprises. It soon comes to light that Betsy was hiding volumes of dark secrets behind that perpetual frown of hers--and one of them just might have been a motive for murder. While Tricia tries to help Angelica--the newly elected Chamber of Commerce president and Betsy's boss--solve the mystery, she discovers a hidden chapter in her own family history that rocks her to her very core"--Dust jacket flap.
| Call Number | Location | Status | Due Date |
| --- | --- | --- | --- |
| F BARRETT | Adult Fiction | Out | 11/30/18 |
Details & Subjects
Edition Statement :
First edition.
ISBN :
0425252574
Physical Description :
308 pages ; 21 cm.
Subjects :