The library will be closed Monday in observance of Martin Luther King Jr. Day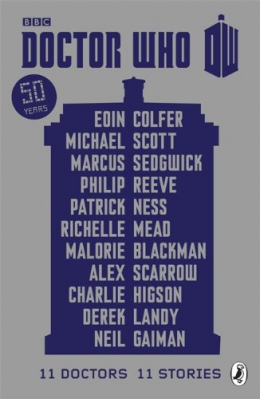 This print edition is the culmination of a year-long series of ebooks to celebrate the fiftieth anniversary of the hit BBC series, Doctor Who. Eleven stories, eleven authors, eleven unique interpretations of the Doctor: his terrifying alien enemies and his time-travelling adventures.
| Call Number | Location | Status | Due Date |
| --- | --- | --- | --- |
| YA F DOCTOR | YA Fiction | In | |
Details & Subjects
Additional Authors :
Content :
The First Doctor: A big hand for the Doctor / by Eoin Colfer -- The Second Doctor: The nameless city / by Michael Scott -- The Third Doctor: The spear of destiny / by Marcus Sedgwick -- The Fourth Doctor: The roots of evil / by Philip Reeve -- The Fifth Doctor: Tip of the tongue / by Patrick Ness -- The Sixth Doctor: Something borrowed / by Richelle Mead -- The Seventh Doctor: The ripple effect / by Malorie Blackman -- The Eighth Doctor: Spore / by Alex Scarrow -- The Ninth Doctor: The beast of Babylon / by Charlie Higson -- The Tenth Doctor: The mystery of the haunted cottage / by Derek Landy -- The Eleventh Doctor: Nothing o'clock / by Neil Gaiman.
ISBN :
0141348941
Physical Description :
516 pages ; 24 cm
Subjects :
Genres :