Streaming video is here! Over 30,000 movies, TV shows, & documentaries for your computer, phone, tablet, or TV. Get started »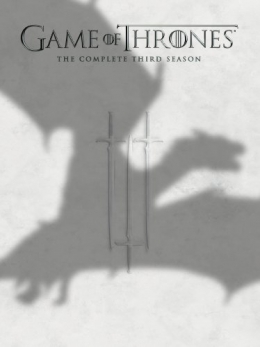 In the third season of the HBO hit drama series Game of Thrones, the Lannisters barely hold on to the throne after a savage naval onslaught from Stannis Baratheon, while stirrings in the north threaten to alter the overall balance of power. Robb Stark, King in the North, faces major calamity in his efforts to build on his victories over the Lannisters while beyond the Wall, Mance Rayder and his huge army of wildlings continue their inexorable march south. Across the Narrow Sea, Daenerys Targaryen- reunited with her three fast-maturing dragons- attempts to raise an army to sail with her from Essos, in hopes of eventually claiming the Iron Throne. In Season 3 of this original series based on George R. R. Martin's bestselling books, the battling families of Westeros continue to clash as bonds are strained, loyalties are tested, and cruel fates are met.
| Call Number | Location | Status | Due Date |
| --- | --- | --- | --- |
| DVD TV GAME S3 | DVDs TV Series | Out | 3/7/19 |
| DVD TV GAME S3 | DVDs TV Series | Out | 2/27/19 |
Details & Subjects
Additional Authors :
Target Audience/Rating :
TV rating: TV-MA ; CHV rating: 18+.
Edition Statement :
Widescreen.
Content :
Disc 1. Episode one. Valar Dohaeris / written for television by David Benioff & D. B. Weiss ; directed by Daniel Minahan -- Episode two. Dark wings, dark words / written for television by Vanessa Taylor ; directed by Daniel Minahan --
Physical Description :
5 videodiscs (approximately 555 minutes) : sound, color ; 4 3/4 in.
Notes :
Originally broadcast on television as individual episodes of the television program by HBO in 2013.
Subjects :